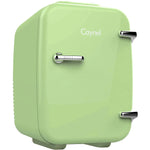 What is a Skincare fridge?
The skincare fridge can control the temperature to slow down the reaction of molecular compounds and the environment at different temperatures
.
As we all know, most skincare and beauty products need to
be placed
in a cool and dry place, this is to avoid factors such as temperature, humidity, and light from changing the beauty products
.
A skincare fridge is a small, functional device that is the size of a handbag, enough to hold serums, creams, and toners
.
How to Extend the Life of Your Skin Care and Makeup
For many people, putting beauty products in the fridge is an unnecessary act.
At room temperature, beauty products can
be used
, but some people will put frozen stainless steel spoons on the eye sockets, to reduce the mentality caused by puffy eyes
.
The principle of this is that ice compress can reduce the temperature of the skin and blood in the area, reduce the speed of blood circulation, and reduce the expansion ability of capillaries
.
Ice compress can open skin pores and absorb active ingredients, delay the appearance of crow's feet and other eye wrinkles, and cut eye fatigue
Skincare products such as jade rollers can also
be kept
in the fridge for a long time so that they have a lower temperature when used
.
Rolling on the face with frozen jade stones when using beauty products helps to seal all applied products in the skin layers
.
Some people think that there is no need to buy a more small fridge for skincare, because in daily life, the refrigerator has become an indispensable household appliance for us, and there is enough space for beauty products
But have you considered that unsealed beauty products will
be contaminated by
a large number of food-derived bacteria, and bacteria will always attach to anything we do
?
When we use products invaded by bacteria, acne and pimples appear on our faces, and noble products can no longer
be used
, do you regret not buying a dedicated mini skincare fridge in time to protect these products
?
When you need to go back and forth between the kitchen and bathroom to ensure your beauty, a mini fridge can keep all your products within easy reach while having the same cooling effect as a kitchen appliance
.
Retro design, built-in handle, 4L capacity is enough to meet your skin care needs, and 5 colors for you to choose from!
This mini skincare fridge has handles for easy transport, and the unit comes with the necessary power cord to work when plugged into any 12-volt car outlet for skincare while camping
.
This height or shelves of the Skincare fridge corresponds
perfectly
to most product sizes and it comes in a bold coral pink or turquoise color; a great addition to any vanity cabinet
.